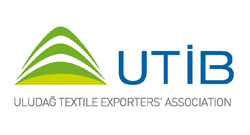 Uludağ Textile Exporters' Association (UTİB)
The Uludag Textile Exporters' Association (UTIB) was established in Bursa in 1986 within the organization of the Uludag Exporters' Association. As of 1 Jan 2019, UTIB has 2295 members.
Today the Association exports to all continents in the world, especially to Germany, United States, United Kingdom, Romania, Morocco, Spain, Egypt, Italy, Bulgaria and Netherlands etc. over 160 countries and regions; the total export reached $1.27 billion by the end of 2018. In recent years, the Uludag Textile Exporters' Association organized many congresses, workshops, International R&D Brokerage Events, represented the country in international fairs, invited buyers' delegations, set up trend areas, seminars, training sessions and other events. In addition, with the projects and activities it has taken on, the Association has been successful in being a model organization within the sector and for other leading sectors.
The textile sector is one of Turkey's traditional branches of industry and it stands as one of the benchmarks in the success story of the country's exports. The Turkish textiles and ready-to-wear apparel sector as a whole is the leading industry to produce the greatest foreign trade surplus.
The Turkish Textiles Sector holds a special place in the world in terms of product quality, is a trendsetter in fashion and using the latest technologies. The sector is also a leader in terms of its share in GDP and in its use of local input; this characteristic of the industry forms the basis of its presence in global markets.
Turkey is the biggest textile producing country on the European continent. The third largest textile exporter of Europe, The seventh largest apparel exporter in the world, the fourth largest apparel supplier of Europe, the fourth interior textiles exporter in the world. It is the world's seventh largest cotton producer. Turkey's share in world textile exports is 3%, and 4.5% in home and interior textiles; its share in technical textiles is 1.5% (2018).
All in all, as Turkish Textile Sector we are loyal to ethical values, we use science, we teach how to learn, establish correct communication and coordination platforms, we support individual progress and recognition of achievement, we are open to exchange of ideas, critical thinking, global awareness, we support creativity in all fields of the sector, diversity in research and ideas are important for us, we promote cooperation. This is actually a global responsibility that should be realized among every business actor and consumers related with the industry.