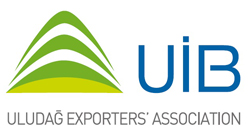 General Secretariat of Uludağ Exporters' Association (UİB)
The Uludağ Exporters' Association (UİB) organizes exporters within the interests of the country. It is made up of five separate associations operating in different sectors under a special budget within the framework of "Law No. 5910 on the Foundation and Duties of the Turkish Exporters Assembly and the Exporters' Associations, and formed within the "General Secretariat of Uludağ Exporters' Association."
These Associations are the following:
Uludağ Automotive Industry Exporters' Association (OİB);
Uludağ Textile Exporters' Association; (UTİB)
Uludağ Apparel and Clothing Exporters' Association (UHKİB)
Uludağ Fruit and Vegetable Products Exporters' Association (UMSMİB);
Uludağ Fresh Fruit and Vegetable Exporters' Association (UYMSİB).
Uludağ Exporters' Association maintains its position as the second largest association of Türkiye with an export value of 32.4 billion dollars in 2022.
As of 2022, the basic objectives of UİB, with its total of 14.014 active members all over Türkiye in the 45 provinces, can be defined as raising Türkiye's exports in relevant areas of business, increasing export performance, and organizing many events in international fairs worldwide as well as events inviting buyer and trade delegations to Türkiye, thereby contributing to the recognition of our exporters abroad. The UİB takes on many duties and activities in order to reach this goal.
These duties can be summarized under the following headings:
Activities to develop trade,
Procuring state subsidies for exports,
Organizing training programs, seminars and conferences,
Inward Processing Regime-related services and tasks to support exports.
UİB supports its members in developing their exports within the framework of these goals, duties, and activities. Uludağ Exporters' Association carries out its activities with 12 branches in order to fulfill all these duties.